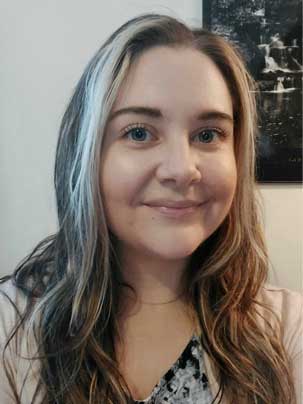 Samantha Murray
Free Student Counselling
MA student in Counselling Psychology, Student Member, OSRP
Preferred name: Sam
Pronouns: She/ Her/ Hers
About Samantha:
Sam seeks to provide psychotherapy services to individuals, couples and families through a collaborative, non-judgemental and safe environment. She is passionate about supporting individuals through challenging times and life transitions. Whether you are experiencing anxiety, depression, a new addition to your family, a new relationship, separation, or divorce, moving, job loss, parenting, grief, or adjusting to new roles, Sam is supportive of the journey through an integrative, empathetic, and person-centred approach.
Sam is currently completing her Master of Arts in Counselling Psychology with Yorkville University. She has obtained a Bachelor of Arts in Psychology with Laurentian University and Post-Graduate Certificate in Addictions: Treatment and Prevention with Georgian College. Sam regularly attends workshops to inform her practice to provide accessible services; recently attending workshops focused on 2S-LGBTQ, seniors, and indigenous people. Sam has completed trainings with a special focus on birth and bereavement for pregnant individuals, such as Birth Doula with DONA International, and Perinatal Mental Health with Postpartum Support International.
Sam has worked within the mental health and addictions field in different environments ranging from a women's shelter, to collaboratively working with probation and parole, and a mental health hospital.
Sam is currently providing telehealth sessions over video call, secure messaging or by phone with day and evening appointments available. She would be honoured to be a witness to your journey, meeting where you are at, identifying challenges and understanding your needs, in support of reaching your goals and overall wellness.
To Register for the Accrediting Counsellors and Therapists Program please visit:
http://www.thecounsellinghouse.ca/accrediting-counsellors-therapists-program-london-woodstock/