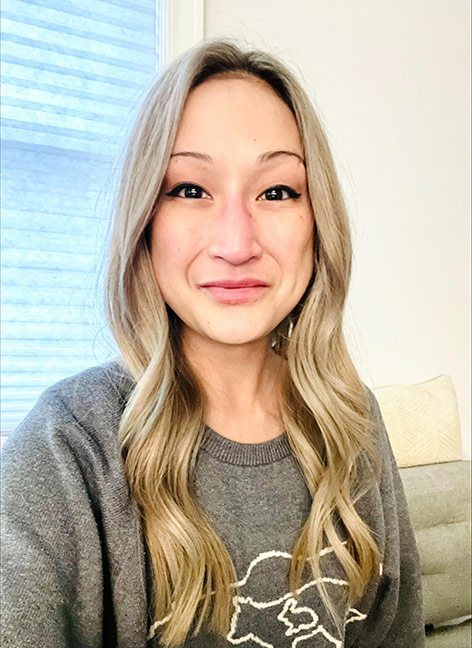 Mariko Swanick
Offering Online and Phone appointments
Bachelor of Arts Degree – Ryerson University with a Major in Psychology
Graduate Certificate in Addiction and Mental Health – Durham College
Master of Arts in Counselling Psychology – Yorkville University
(Qualifying) Registered Psychotherapist with the CRPO.
Under the supervision of Laurie Ponsford-Hill, Mariko is offering virtual psychotherapy services and is open to sliding-scale.
About Mariko:
Mariko has worked with a diverse group of clients in many settings, using various intervention strategies and several theoretical orientations including humanistic, cognitive-behavioural, psychoanalytic, and constructionist.
She has specific experience working with individuals striving to overcome substance use and other behavioural addictions in both residential and outpatient settings. In addition, she has provided crisis intervention, safety/relapse-prevention planning, skill development, and mental and behavioural health advocacy, all while working within a trauma-informed and harm-reduction framework. Mariko is also fascinated by her experiences working with couples and individuals to navigate and overcome interpersonal and relational challenges such as trust, infidelity, communication, and grief.
Mariko is passionate about building strong therapeutic relationships comprised of openness, trust, empathy, and a genuine sense of understanding and acceptance. With these values, she can work collaboratively with clients to support them through challenges such as anxiety, substance use, stress, depression, grief, loss, anger, behavioural health/wellness goals, interpersonal challenges, and other significant life transitions and changes.
Register for the Accrediting Counsellors and Therapists Program here: http://www.thecounsellinghouse.ca/accrediting-counsellors-therapists-program-london-woodstock/